It's not that I don't think of sending a Thank You card. It's that I always seem to realize I should have sent one yesterday. What to do?
Make a card in under 10 minutes!
I know. You're surprised. "Sandi, you have a ton of cards in your stash? Why don't you just use one of those?"
Like you, I always want a new design! And that's how this card came to be.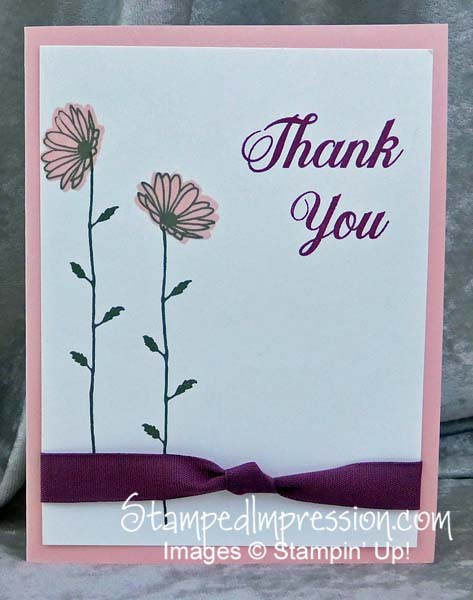 Before I continue, I need to point out that even though this card was super fast to make, I still took super care to make it my best. I stamped slowly and deliberately. It was not a "rush job" at all.
The 4-1-1
Keep it a clean design by using minimal layers – I love lots of layers of cardstock. But, in the interest of keeping this card quick and clean, i limited myself to 2 layers: the card base and the stamped base. Keeping lots of white space on the card front allows every detail to stand out.
Stamp only part of the sentiment at a time – I love the font of this Thank You. But the words on the stamp are in a row. That just didn't fit with what I wanted to do.So, I stamped one word at a time. (More about that later.)
Tie a knot in the center of the ribbon – This is simpler than a bow. It's even easier than tying an extra strand around the middle. Works well for masculine cards, too!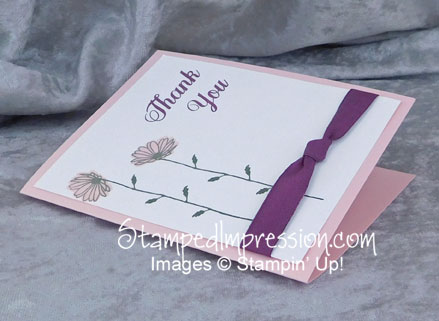 How I Stamped the Sentiment
There are lots of YouTube videos showing ways to do this. Many people like to use Post It notes to cover part of the stamp.
But this is my favorite way to split a sentiment, especially when using a photopolymer stamp.
Ink "Thank" on the ink pad.
Wipe away any stray ink from "You". I prefer to use a baby wipe for this.
Stamp.
Clean the stamp.
Ink "You" on the ink pad.
Wipe away any stray ink from "Thank".
Stamp.
If this were a rubber stamp, I would use Stampin' Write Markers instead of the ink pad. I find that the markers don't work well on photopolymer stamps.
It's really easy-peasy!
Supplies I Used to Make this Card

It's a pretty short list, isn't it?
And it's a pretty quick card. give it a try and let me know how you make out with it.
Truly, I made this Thank You Delight in under 10 minutes!
Save