I'm still loving Eastern Beauty. I worked with this stamp set a lot during May, since it was the ONLY  product I could sell from the upcoming 2017-2018 Annual Catalog. But now that the entire catalog is open for sale, I find than many people are leaving this stamp set on the side.
Why? This stamp set is still amazing! It works so well with our other Stampin' Up! products. Bus most importantly, it makes it easy to implement good design practices. Pull it off your shelf and use it. Here is a fun – and well-designed – card that I designed.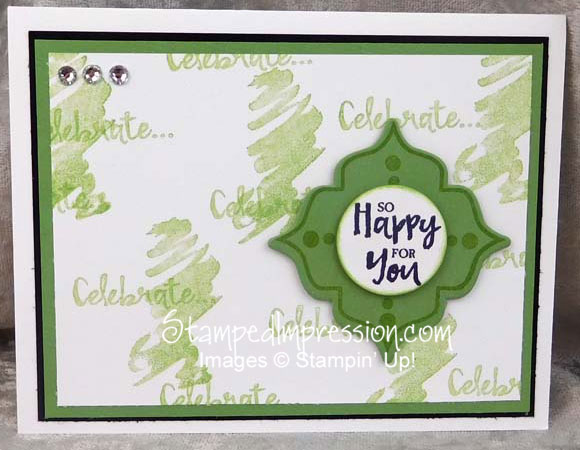 Can you guess what stamp set I paired with Eastern Beauty? I'll tell you, even though I think you might have figured it out. (I don't want you to need to work your way through my post!) The background splotches and the repeated Celebrate are part of Beautiful You. Love it!
Eastern Beauty stamps contains intricate lines and there are almost an infinite number of ways to combine them. The result is that Eastern Beauty easily lends itself to forming a focal point in almost any project design. An that's exactly what I did here.
I stamped the sentiment, then cut a circle around it, sponging the edges. then I stamped the unusual shape for a mat. I could give this stamp set and card stock to a dozen people and each one would come up with something totally different!
The best feature of Eastern Beauty is that no matter how simple or detailed your stamping taste is, you can easily design a fabulous focal point. And every project – whether a card or a scrapbook page – needs a focal point!
Supplies I Used to Make this Card

Bundle and Save $$$

Did you notice in my supply list that you can buy the Eastern Beauty stamp set with the Eastern Medallions Framelits in a bundle? Why buy a bundle? To save money, of course. When Stampin' Up! bundles products, they reduce the price by 10%. So, if you like the products and believe that you'll buy both, then purchase the bundle and save! Another WIN-WIN!
Just one more reason why I'm still loving Eastern Beauty!
Save