It's what's inside that counts. Isn't that what we've been told, since we were little? Well, that's true… to some extent. But when it comes to hand stamped cards, what's on the front counts, too!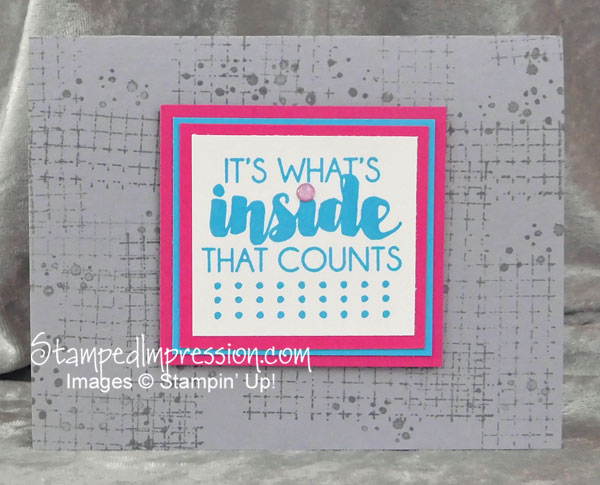 The sentiment is part of the Tags & Trimmings stamp set that is in this year's Holiday catalog. This set is so fun. And it's good to use all year long.
Did you notice the bling that dots the second "I" in "INSIDE"? It's one of those Glitter Enamel Dots. They are so cool, that I try to use them sparingly. At first, I put one on each "I" – but it was too much. I have no idea why I settled on the second "I" – except that maybe it's because it's more in the center of the word. In any case, I like it there. How about you?
The background on the card front is made by stamping images from Timeless Textures. For each inking, I stamped twice. Otherwise, the lines and dots were too dark.
I popped up the matted sentiment with Stampin' Dimensionals, to add depth to the design.
Other than that, this is probably one of the simplest cards to make or CASE (which means Copy And Share Everything).
And what's on the inside???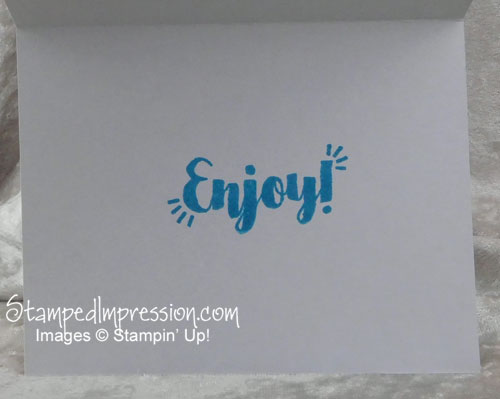 Supplies I used to Make This Project
Note that Tags & Trimmings is not listed here, as it will only be available, starting on September 1.
By the way, do you have your copy of the Holiday catalog? If not, then let me know and I'll get one to you!
I know it's only the middle of August, but (for some of us) it's time to start thinking about the holidays!