Sometimes, the classic designs are the best. Today's project shows a simple and clean card design. This classic design allows the sentiment to be the focus. Take a look.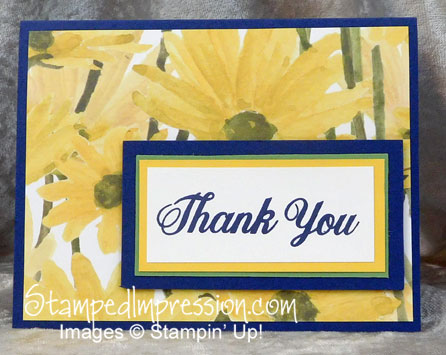 The beautiful, curvy lettering is stunning. That alone makes the sentiment stand out. By the way, this stamp is part of Daisy Delight. It's one of my favorites. Can you tell?
For even more emphasis, I added 3 mats under the stamped layer. Their widths vary. I find it makes a more interesting image, don't you?
Another star of this card is the Designer Series Paper on the card front – Delightful Daisy Designer Series Paper. I needed only the single layer on the card front. This saved me tons of work. And stamping.
World Card Making Day Promotion
But here is the best part. The main components of this card design are on sale! Yes, you read it correctly. On sale.
To celebrate World Card Making Day (October 7) Stampin' Up! is offering 15 percent off a select group of stamp sets, including Daisy Delight. I love saving 15 percent.
Also on sale are the Very Vanilla and Whisper White note cards and envelopes.
And if you're still looking for an incentive, purchase a Fast Fuse dispenser, and receive 2 refills free. I love FREE even more than saving 15 percent!
Designer Series Paper Savings
Designer Series Paper is also on sale. Stampin' Up! selected a group of 13 different packages. Buy any 3 of these and pick a 4th one for free. For those of you into math, that's a savings of 25 percent!
The best part of all this is that the products in each of these promotions coordinate!
Yay! Save money and buy products that coordinate. Talk about making the work easy.
That means you have more money and more time for fun. Win-Win!
If you need some help choosing, well, come to me. I'm happy to lend a helping hand!
12 Weeks of Christmas Projects – Just a Day Away
And while you're getting ready for World Card Making Day, don't forget that the 12 Weeks of Christmas Projects begin tomorrow, Wednesday (October 4).