Some of my card designs are simple. Some of my card designs are more detailed. Both are suitable for different events. Today's card design has so many interesting details. However, each detail is so simple to create, that the card came together quickly. That makes it fun AND satisfying. That means I'm sending it to someone very special!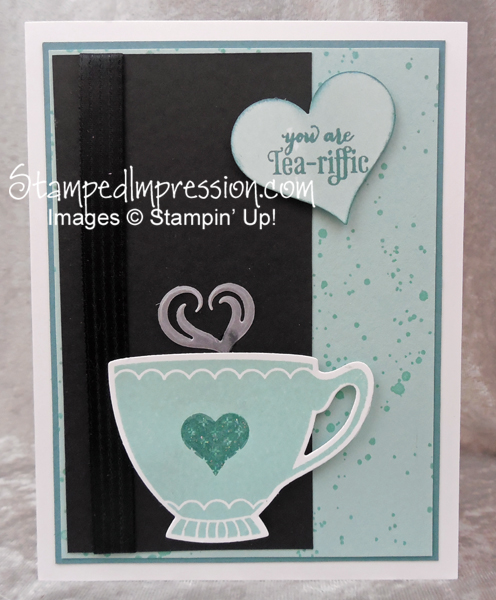 The card design started with A Nice Cuppa, one of the most clever stamp sets in the Occasions catalog. Clever, you say? Yes! The sentiments in it make it suitable for a mother's card or a special female friend/relative. The images in it include teacups and hearts. So, it's good for tea drinkers.
But the play on words in the sentiment "You're Tea-riffic" make this ideal for a Thank You card. I send more Thank You cards than any other type of card.
Now, let's examine some of the most significant elements in this card design.
The 4-1-1
Rule of Thirds guides your eye to the most important design elements – if you draw 2 vertical and 2 horizontal lines, dividing the card front into 9 even rectangles. Place elements where any 2 lines intersect and you have natural focal points! That leads to the 2 hearts, one of which is on the teacup!
Cutting out shapes draw your eye to them faster than when stamped directly on the background layer of card stock – Hence the die-cut teacup is front-and-center. The sentiment was punched with the Sweetheart Punch. That also makes it prominent. (Sponging around its edges helps, too!)
Assorted textures add interest – I randomly stamped spots all over the background – for warmth. I added a strip of Basic Black 3/8″ Stitched Satin Ribbon on the black card stock – for sophistication. I added Dazzling Diamonds Glitter to the heart on the teacup – for fun. Hey, that means I also added emotions! I call that a Win-Win!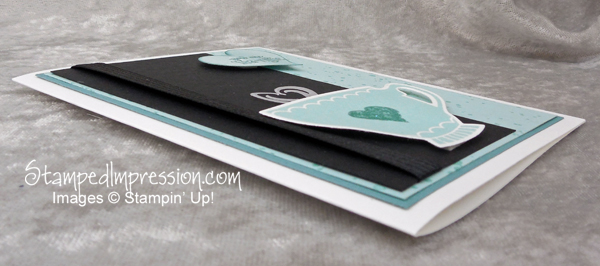 Of course, I used Stampin' Dimensionals on this card. I buy these babies 2- or 3-at-a-time because I use them so much!!
By the way, you'll never guess where I got my inspiration for this card. It's from a birthday card I made last year, one of my most popular pins on Pinterest. You can see that card here.
So, if you're trying to make a card with a detailed design, start with a few elements that you like and put them together. It will lead to a special result!