It's today! The 2016-2017 Annual Catalog is open for business and it's making me ridiculously happy!! How can it do anything else but that? Sure, we have lots of the usual stamp sets and stuff that we like. But there is a fresh look to so many of the new products! Love it!
Here's today's card project.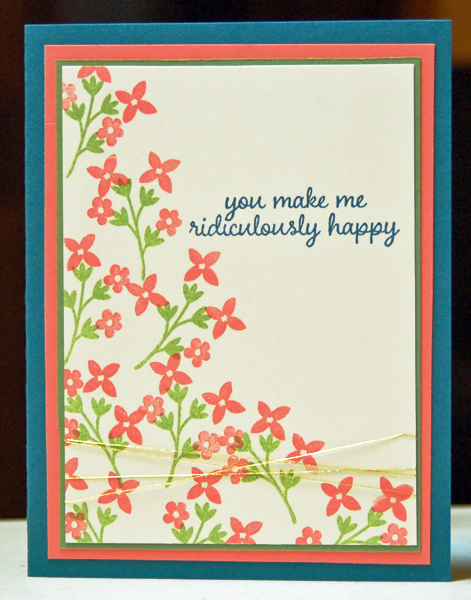 Fun flowers are from the new Love & Affection stamp set. The stems and blooms are separate stamps, so that you can assemble them any way that you like! Plus, they're photopolymer so that you can stamp EXACTLY where you want. That wasn't a huge deal with the flowers, but it was critical to my sentiment.
"You make me ridiculously happy." How fun is that? Perfect for so many occasions!
I used the new Flirty Flamingo In Color ink on this card. I didn't think I'd like it at first. But it works so well with greens and blues. You gotta love it! On this card, I used it with Wild Wasabi and Island Indigo.
The Gold Metallic Thread adds some subtle bling. Plus it's flat so that it won't cost you extra postage!
Truly a fun start to the new catalog. Love & Affection makes me ridiculously happy!!