Do you use your Designer Series Paper or do you hoard it? Many of my customers keep it for "special" occasions. But I learned that many don't use it because then don't know how to use it.  So today, we're going to explore this a little. I'm going to show you how to mix patterns on a card.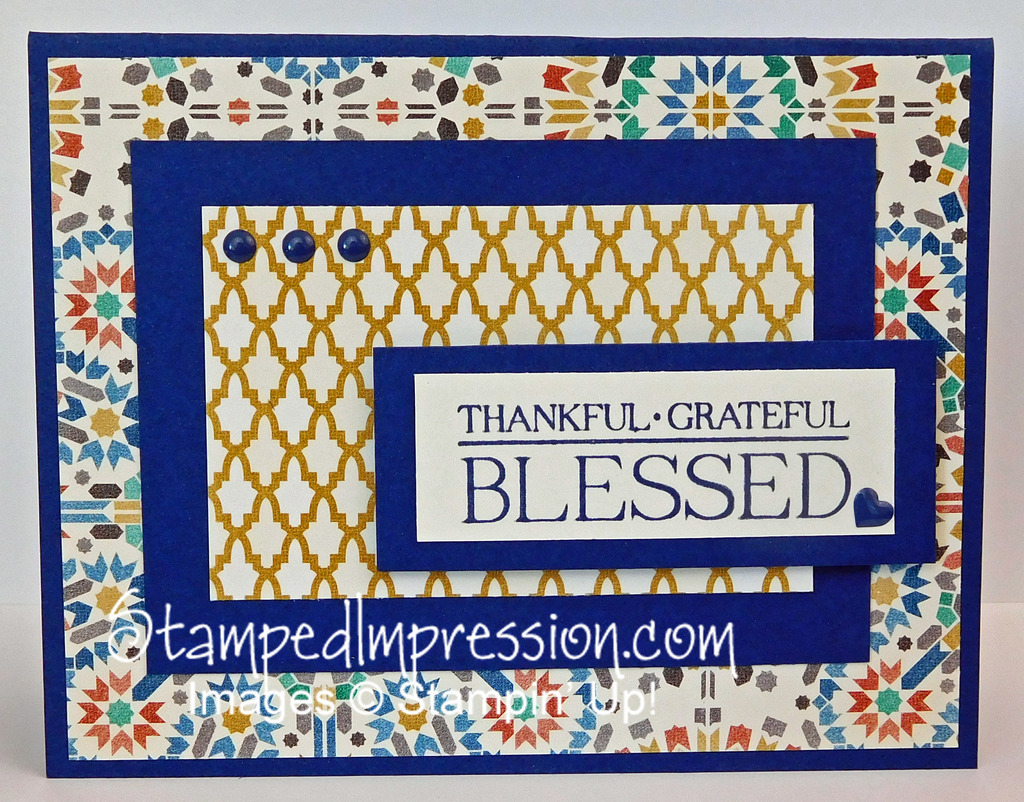 I picked Moroccan Designer Series Paper for this card. The designs are unusual and gender neutral! I picked two different papers. One is multi-colored, while the other is pretty much monochromatic. That's the easiest way to combine patterns.
One paper has a bigger, bolder pattern. The other paper has a simpler, smaller pattern. That's a second tip for combining patterns.
Finally, I separated the patterns with solid Night of Navy. That helps to give your eyes a place to rest. That's the third tip to combine patterns.
To review, in order to combine patterns on a card:
Use only 1 multi-colored pattern and keep the rest monochromatic.
Use only one bold pattern and keep the rest smaller and simpler.
Separate the patterns with solid colors.
And there you have it. Easy-peasy!
The only thing I would change if I were to make this card again, I would include more white space (or maybe vanilla space) around the sentiment (which is from the Paisleys & Posies photopolymer stamp set). That would help it stand out from the patterned paper.
It's really easy to combine patterns on a card. Do you every do this? If so, please leave a comment and tell us how!