Do you know about Paper Pumpkin? It's a monthly subscription from Stampin' Up! that provides a whole lot of fun delivered right to your home. Here's a quick video from Stampin' Up! showing the May projects.
Isn't that cool?
How to Get Paper Pumpkin
There are a few ways to subscribe. You can subscribe
month-to-month for $19.95
prepaid 3 months for $59
prepaid 6 months for $114
prepaid 12 months for $215
Shipping is includes. Sales tax is extra.
What's Included
Every month, the kit contains a unique stamp set and an ink spot (i.e. a tiny ink pad). The colors are not repeated for at least 12 months. Plus, you'll receive everything you need to complete the project, except for scissors and your favorite Go-To adhesive. Sometimes the projects are cards. Sometimes they are ornaments, decor or some other 3-D item. Projects tend to be seasonal. Instructions are complete and easy to follow.
In your first month, you'll receive a slat clear block on which you can mount your stamps. Keep that. However, if you don't want to collect the stamps and ink, toss them when you're done! The choice is ALL yours!!
Have Fun!
The most important benefit of Paper Pumpkin is that the projects are FUN. I spend up to 60 minutes finishing my projects. It takes me longer if I decide to make alternate projects.
There's no need to stress. Just enjoy!
Save 25 Percent on Your New Subscription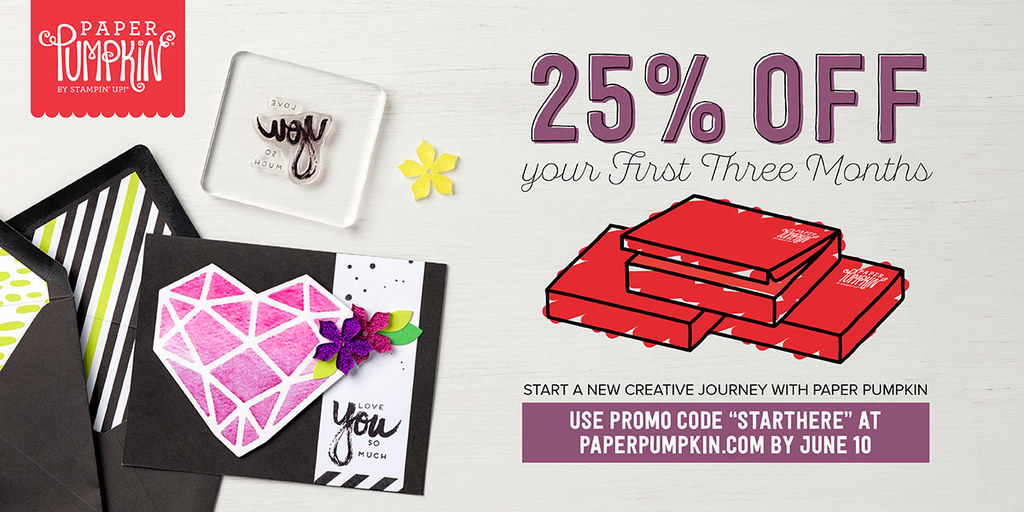 Join by June 10, 2017, using the promo code STARTHERE, and you'll save 25% of the first 3 months! Why not try it?
This promotion is good only for first-time subscribers.
You can apply the discount only on month-to-month subscriptions.
After 3 months, the price automatically returns to the full price.
You must enter the code STARTHERE when you sign up.
As they say, it's easy peasy. So try it out. But you must sign up by June 10.
Stampin' Up! refers to Paper Pumpkin as Creativity in a Box. And it is.
Give it a shot and sign up today.