I send birthday cards more often that almost any other type of card – except maybe Thank You cards. I like to send each person a different design, so I'm always looking to add to my stash. Today's design is a fun, hand made birthday card.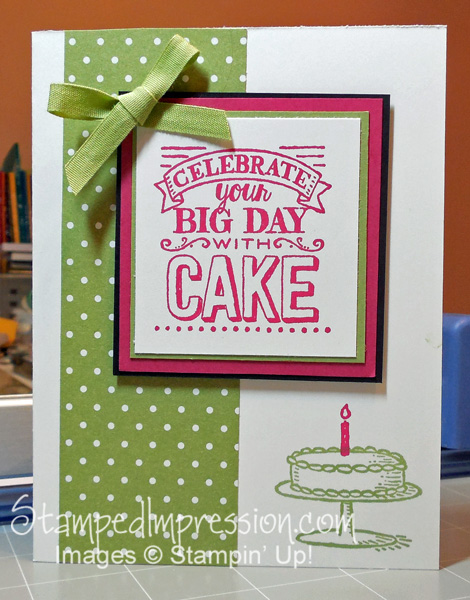 Since I was looking for something "fun", I started with Big Day, a stamp set you can earn for free during Sale-A-Bration! This card started out to be mainly Rose Red and Whisper White. But that was boring. Although I've never seen a Pear Pizzazz birthday cake – don't you think that would taste weird?!?! – I suddenly couldn't get away from the color combination. In fact, the Rose Red started to take the secondary position to Pear Pizzazz. Go figure.
The card design is pretty flat, as I have lots of layers of card stock. (I didn't want the design to become "too much".) In fact, the main sentiment has 3 layers of mats beneath it. But the card doesn't "look" flat. I used Stampin' Dimensionals under the matted sentiment. Plus, I added a bow in the top left corner. The bow is made from Pear Pizzazz 1/4″ Cotton Ribbon. It's lack of shine or glimmer makes it perfect for a masculine card! (I'm always looking for designs suitable for a man.)
The card is still flat enough to mail. Did you realize that if your card is 1/4″ or more thicker at any point, you need to use extra postage? You do. I just thought I'd mention that. It's not so important to me when sending a special card to just one person. However, when I'm making invitations or holiday cards – cards where I send the same one to many people – I try to keep the postage costs down.
I wanted to keep this blog post focused, but I realize that I already blew that one. And now, I'm going to take you in a totally different direction.
Today's post has a larger-than-usual photo on my project. What do you think? Should I continue with this type of photo? Or do you prefer to see a smaller version in the post and then a full size version once you click on it? Please let me know what you're thinking. If you're too shy to share your thoughts in the Comments section, then send me a private email.
However, you about the blog post and photo format, you have to agree that this is a fun hand made birthday card!
I have a treat for you tomorrow. A guest designer! It's always fun to see what others create! Be sure to return then!