Look who's turning 1 today. This is an example of a card appropriate for the event. Let me explain.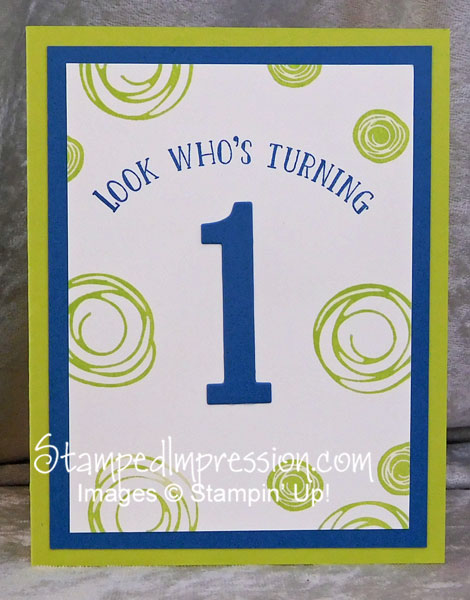 When I start designing a card for a specific purpose, I consider these types of things:
Recipient's age & gender
Recipient's likes & hobbies
Other environmental factors – like gift wrap, etc.
This card was designed for a little boy. The gift wrap I found was blue and green. The card and gift were being mailed.
So, I needed a flat card – otherwise it would have been damaged in transit. And so, this card was born!
Although this card is for a 1-year old boy technically, it's really for his parents. I don't think he's going to card one way or another about it.
Colors chosen were Lemon Lime Twist and Dapper Denim. That green goes well with just about any color. Dapper Denim is my favorite blue in the current colors. So, this combination made me happy!
Blue and green is my favorite color combination. Here's a winter card where I used it.
This card is for a little boy. SI didn't feel like using sports images or animal. Instead, I went with the neutral swirls.
Basically, I kept the design super simple.
And quick.
Plus easy!!
To be sure that it has that added touch, i stamped some swirls on the inside of the card. I also stamped a few on the from front and flap of the envelope. It's not your ordinary birthday card!!
Supplies I Used to Make this Card

While I made this card for a little boy, you can just change the numbers and give it to ANYONE!! It really is a generic card!
Try it yourself and let me know how you make out!
Save