Happy Pi Day! It's March 14. For those who are mathematically inclined, that's 314. (Pi is 3.14. Get it?) Okay, it's the one day of the year I can celebrate the geek in me!
(Aside… my daughter seemed a little shocked that I didn't have a pie on my Happy Pi Day card. My Pi has 0 Weight Watcher Smart Points…)
Here's my card to share.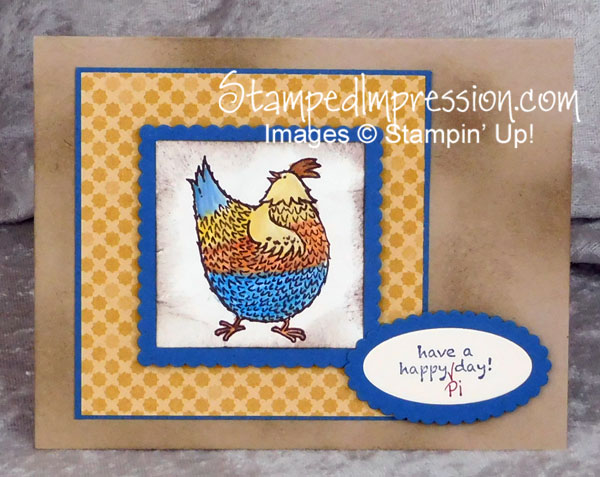 Thank goodness for Sale-A-Bration! Without it, it would have been so difficult to come up with the sentiment on my card! Lol.
Different Ways to Use a Stamping Sponge
There are 2 different stamping techniques on this card design.
The one you probably noticed is the random sponging all over the card front. I had planned to sponge only around the border of the central image. But that was a little boring. So I added splotches all over the card front.
After carefully stamping and coloring the central chick, I gently rolled up the vanilla card stock. Then I opened it up again and lightly sponged along the fold lines. Interesting effect, don't you think?
A Gold Surprise
Every card should have a little surprise. The WOW factor.
On this card, it's the chick's comb. I colored it with Gold Wink of Stella. Just for fun! It's hard to see in this photo. Bit it's ever so special cute and fun in real life!
Supplies List
Here are the supplies I used to create this Pi Day celebration card. Click on any photo to go to my online store and purchase that product.

So have a little fun today. Eat some pie. Make some cards. Whatever you do, be sure to enjoy it. Happy Pi Day!