Groundhog Love! That's what my husband named this card design! I never realized how much he noticed what I did in my craft room!! Here is my creation of love, with texture, swirls and a little pink flower!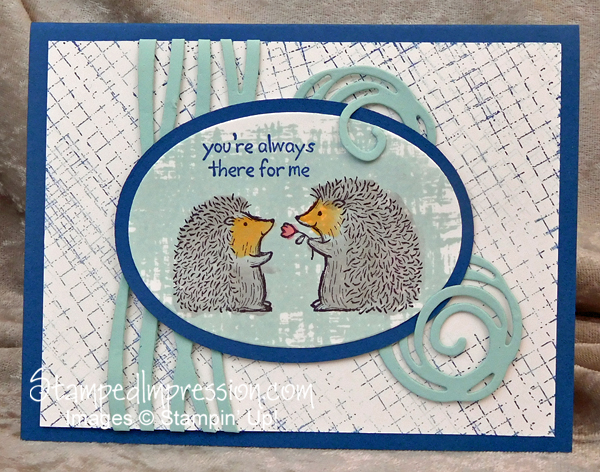 I started with Love You Lots, one of the stamp sets you can buy at a reduced price when you host a party. Although I'm not usually a fan of "cute", this image makes me feel are warm and smile-y! (Is there such a word?!?! If not, there should be!)
I mixed the animals and sentiment with a bunch of other stamps. I stamped textures from You've Got This and Timeless Textures. Somehow, all the lines fit with the outdoors.
Then I added Swirly Scribbles Thinlits. They made a stronger statement than just regular stamping.
This card is almost monochromatic. Primary colors are Dapper Denim and Pool Party. However, I also used a little bit of Smoky Slate and a touch of Pink Pirouette. While these are different colors, they are a soft hue, just like Pool Party. They don't stand out or call attention to themselves. Still kind of monochromatic in my mind.
So, what do you think about Groundhog Love? Could you send it to your significant other? I think I'm going to. Our anniversary is just around the corner….
Save