Today's project is an easy card made with Lovely Words Thinlits.
I love the idea of making those over-the-top cards with all kinds of layers and embellishments. In fact, lots of layers is my favorite design tool. But, to be hones, I rarely have the time or energy for those cards. So, I truly prefer the cards that are easy to make. Don't you? I find that using the right tools and design make it all possible.
The 4-1-1
This card is made with several products in the new 2017-2018 Annual Catalog, which starts on Thursday, June 1.
Keep or discard the negative space from the Thinlit? – Each Lovely Words Thinlit die cuts a word in a shape. You can trim out the word and glue it to your card. In this case ,I die cut everything from the top layer of my card. It's like added a sentiment and a mat, all at one time!
Combine a stamp set with the die  – I stamped the words "For a great" right above the die cut word. (The stamp is part of Lovely Inside & Out.) The combination of stamping and die cutting makes the card more interesting. Don't you think?
Lemon Lime Twist is the FUNNEST!! – I admit it. When I first saw Lemon Lime Twist I thought it was the ugliest color every invented. Really. I hated it. But then I put some in my hand and I can't stop working with it. It's bright. It's fun! And I can make it work with so many other colors. Maybe it belongs in the Neutrals Color Collection. Not!
Products I Used to Make this Project
Before I end this blog post, take another quick look at my card.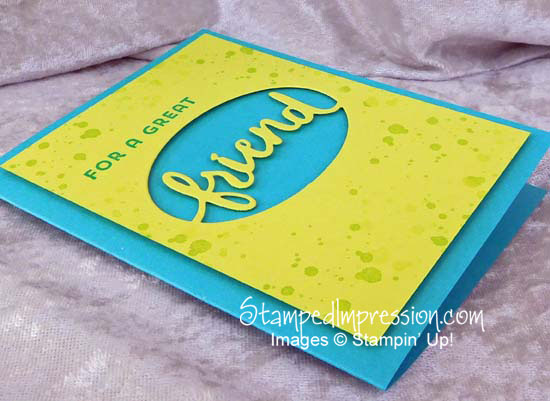 Switch up the colors, and you can have a set of cards to send in less than 30 minutes! It's truly an easy card with lovely words!
Save