It's important to chase your dreams. Today, I show a card that demonstrates how to chase your dreams using glitter!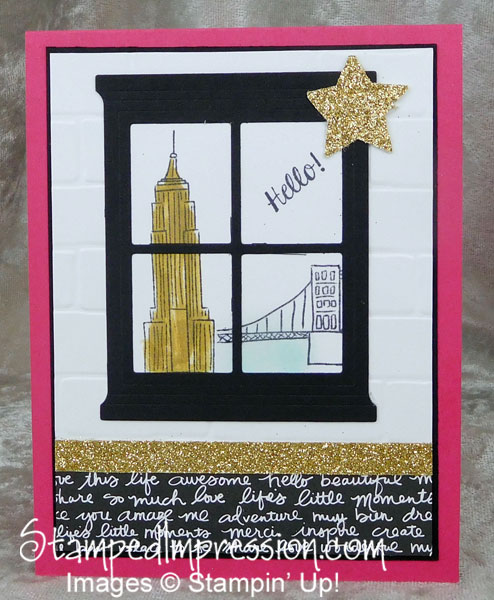 This card has so much going on. Let's examine some of its features.
The 4-1-1
Glitter 2 Ways – I used glitter by adding Gold Glimmer Paper – both in the horizontal strip about 1/4 from the bottom and in the die-cut star at the top right. That's one way. I also added glitter with the Gold Wink of Stella Glitter Brush on the building. By the way, both the Stars Framelits and the Gold Wink of Stella glitter Brush are retiring at the end of this month.
A window on the world – Use the Hearth & Home Thinlits to create the window. It lets you look out on "what's out there". That always makes me feel hopeful and happy!
Brick wall adds even more texture – Running the Whisper White cardstock through your Big Shot with the Brick Wall Textured Impressions Embossing Folder is yet another kind of texture on this card.
Don't you find the combination of all these textures interesting? I know that I do!
The main star of this card, however, is the stamp set, Chase Your Dreams. It includes images of architecture from all over the world. I wouldn't normally include 2 buildings from different cities on one card, but this is for someone who has traveled a lot. So, it feels appropriate. The important point I want to make today is that this stamp set is retiring on May 31. And it's on sale! At least, the rubber clear-mount version is on sale. The rubber wood-mount version is full price.
The card design was inspired by one of my sidelines. That's another Stampin' Up! demonstrator who has the same upline as me. One of the fun parts of being a demonstrator is participating in swaps. That's where each person designs and makes several copies of a card. You mail them to the organizer. She puts together packets where each has exactly 1 of each card. Then she mails the packs to each participant. So, you design one card and receive a bunch back. Talk about inspirational!
Call to Action
So the message today is to be sure to pick up anything that you need from the retiring list. May 31 is just 8 days away.
And, if the idea of being a Stampin' Up! demonstrator sounds interesting to you, let's talk. Until you have all the details, you can't make an informed decision. Being a stamping business owner maybe just the right thing for you!
So, chase your dreams using glitter!