Starting tomorrow… The Blendies are coming!
Actually, they're the Stampin' Blends. But "Blendies" sounds so much more fun, doesn't it?
Well, whatever you call them, they ARE fun!!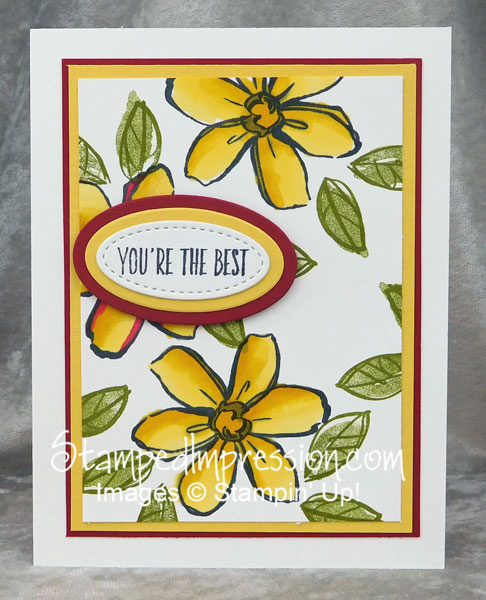 You all know how much I love Garden in Bloom, right? Well, when Stampin' Up! introduced the new alcohol markers, I was a little skeptical. We all know about the previous Blendabilities. While many people still have and use those markers, Stampin' Up! faced a real issue with consistent quality. So, I proceeded cautiously this time.
Stampin' Up! introduced 12 sets of colors (where each set has a light and a dark version), plus a color lifter and some other stuff. I bought only 3 sets of colors and the color lifter.
Stampin' Up! also offered a limited time stamp set. I decided to work with the ones that I already own.
And here is my first project, above.
I learned lots on this first card. I'll be sharing these lessons with you over time.
The first thing I learned is that its difficult to blend 2 different colors. Under the matted sentiment is a flower colored in yellows and reds. Ummm, not so nice. But you know how any mistake is really an opportunity to embellish…
Improvement over the Old Alcohol Markers
So, let's focus on what was done well. Here are my top 4 observations:
Stampin' Blends have air-tight caps that protect the brush tips.
Each Stampin' Blend color has a light and a dark shade. Perfect for blending, without all the hassle of the previous 3 shades.
You can buy individual Stampin' Blend markers. So, when one dries out, you don't need to replace the pair of them.
You can buy some Blends or ALL the Stampin' Blends. It depends on your experience and budget.
Those lessons learned… Remember to work on Thick Whisper White cardstock. I accidentally used regular Whisper White cardstock. The ink bled through. Not a problem, as I would on Grid Paper. But it is a problem for those of you who do not.
And, while you can blend different colors, become good at blending like-colors first! (Baby steps.)
Am I glad that I bought them? YES!!
Do I wish I had bought more? Yes!! But the good news is that they are here for a long time. I can buy a few at a time, or go crazy and get them all. Decisions….
The Stampin' Blends will be available for sale starting tomorrow, November 1. So, if you're thinking about placing an order, think about adding some Stampin' Blends. They're totally fun and make for real easy beautiful results!
To learn more about Stampin' Blends, download the Stampin' Blends flyer here.