It's finally here! The 2017-2018 Annual Catalog! And here's a card to say Happy Birthday to the new catalog!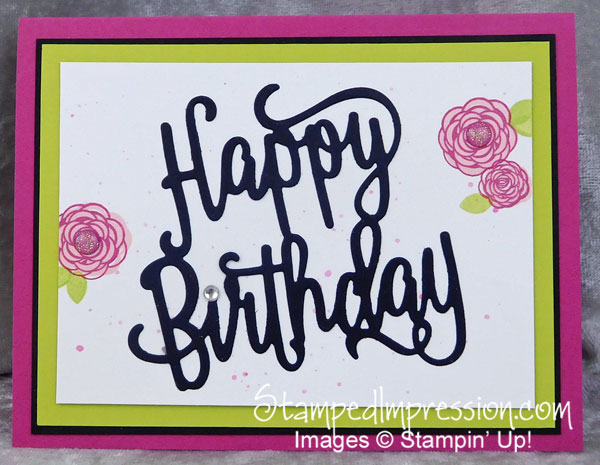 This card shows a bunch of new products. Isn't it fun???
Let's start with the colors. The card base is Berry Burst. It's richer than our soft pinks, and richer than Rose Red. The green layer is Lemon Lime Twist. Oh my gosh – this is the best color. I absolutely hated it when I first saw it. Too bright for my taste. But when you set it with other more neutral and traditional colors, it relaxes a little. The flowers are 2-step flowers, inked with Berry Burst and Powder Pink. All 3 of these colors are new In Colors, here until 2019.
The sentiment is die cut with the Happy Birthday Thinlit. I love this font, don't you?
The stamped flowers are from Happy Birthday Gorgeous, one of the new stamp sets. Those flowers are so cute. And the sentiments that come with the set are perfect for the inside of this card.
I added a Metallic Enamel Shape to dot the "I" in Birthday and Glitter Enamel Dots to each flower center.
The Order Entry System is down now. Stampin' Up! promises to bring it up by noon, Mountain Time. That's when the shopping fun begins!
Because it's a new catalog, we know that they will run out of some things. I predict that the Thinlit I used will go on back order very shortly.
Supplies I Used to Make this Card
This is one of the best catalogs in a long time. Don't take my word for it. Listen to my customers who say this!
How to Order
Get your credit cards ready. Shop at my online store. Or, if you're worried about products running out, send me an email and let me place the order for you. (This offer is to previous customers of mine only.) But don't procrastinate. It's almost time to shop from the 2017-2018 Catalog! Happy birthday to the new catalog!!
Save