Do you find that you make more birthday cards than any other kind? Actually, I make more Thank You cards, but Birthdays are a close second place! Here's a birthday card with a vintage look. The stamp set retires on May 31.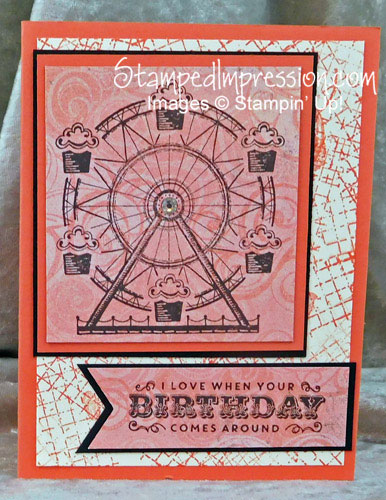 The stamp set is Carousel Birthday, from the Occasions Catalog. It comes with a matching set of Framelits. Using those and brightly colored ink creates a fun, modern design. But limiting the number of colors on this card to two hints at something more vintage in style.
By the way, I created another card, full of bright colors, earlier this year. You can read about it by clicking here.
I love to play with my stamps and ink, to see how many different "looks" I can achieve!
The carousel is stamped on a piece of Cupcakes & Carousels Designer Series Paper. This sheet is colored Calypso Coral. So I decided to use the same color ink and cardstock on the card. But notice that the shades are not exact. Stampin' Up! sets the colors of their different products so that they "coordinate" – they don't necessarily match exactly.
As for the ink, it will have different shades, depending on how well the stamp pad is inked. I added ink right before working on this card. Look at the Very Vanilla cardstock layer. Even though I stamped off before stamping on the cardstock, the color is rich. If I were doing this card today and my stamp pad needed to be re-inked, I wouldn't do it until after stamping the card front.
Products I Used to Make this Card
Call to Action
By the way, if vintage is not your thing, check my Facebook Page at 10 am. I will post a similar card, but not so vintage-y looking. Is that a real word?!?!
Then leave a comment and let me know which design you prefer. I really love to hear from you. It makes me feel a little less isolated lol! It almost makes me feel like I'm talking to someone…
Save
Save