I love a big, bold birthday greeting. Stylized Birthday stamp set provides just that. Pairing it with patterned paper that has gradient coloring is just, well, even better! Take a look.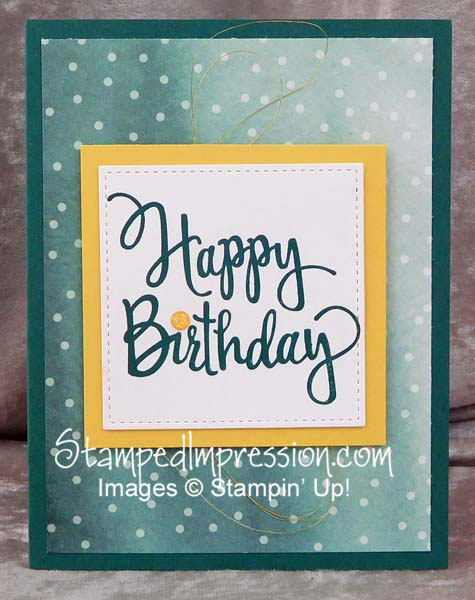 I added a few special touches to make this birthday card really POP!
The background paper is from the Delightful Daisy Designer Series Paper. I'm so fond of polka dots. I think they are my favorite background design. Or maybe stripes are. I guess I have 2 favorites. But I digress.
The thing that I like about this paper is that it doesn't have a solid background. See how some of the Tranquil Tide is dark while other parts are dark? I love this effect. To be truthful, a couple of customers came to me to tell me that the paper was incorrectly inked. I checked with Stampin' Up! and I'm delighted to report that this was intentional. In fact, this was done on a few sets of Designer Series Paper. Don't you like it? I sure do! Leave a comment and let me know what you think.
To add some sparkle to the sentiment, I added a Crushed Curry Glitter Enamel Dot to the "i" in Birthday. You can never have too much sparkle!
Finally, to help the sentiment really stand out, I made sure that I stamped it so that there is lots of white space around it. Your eye always needs a spot to rest when looking at a gorgeous birthday card!
One last special touch. Did you notice loops of Gold Metallic Thread behind the matted words? They are the latest trend. I actually made them kind of messy. But, in this case, I think that's better than neat-and-tidy. What do you think?

Supplies I used to Make this Card
So, if you're looking for a bold birthday card, try some of the techniques I used on this one. It's big and bold, but not boring. I love the combination of Stylized Birthday and gradient color!
Save
Save