One of the things I love about being a Stampin' Up! demonstrator and a card maker, is finding a new technique. And that's just what I'm showing today…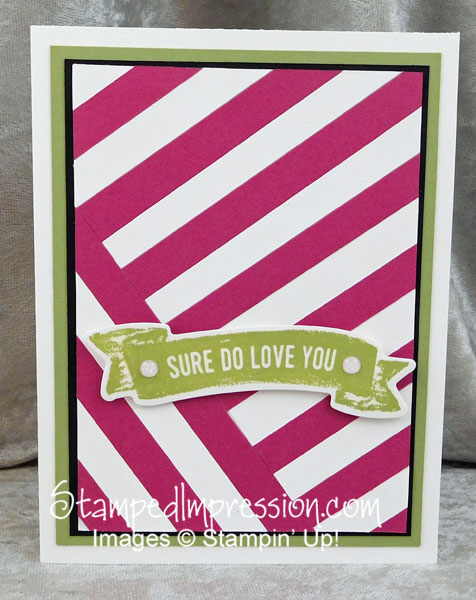 Do you like the stripes? I made the top layer of the card front using alternating strips of Whisper White and Berry Burst cardstock. I thought it was a lot of work. But it turned out to be easy and fairly quick to put together.
How I Made the Striped Top Layer
To make it, I cut a bunch of strips about 3/8″ wide and 6″ long. Maybe 10 of each. Then I cut a rectangle of Whisper White cardstock, the size of the top layer of the card front.
Using my SNAIL Adhesive, I ran adhesive along the outer perimeter, as well as across the 2 diagonals, and running from the middle of each side to the middle of the opposite side.
I lay one strip of Berry Burst diagonally from the left side to the bottom. It's the stripe that separates the two sets of stripes.
I lay strips next to this first one, butting one up against the other. Let them extend beyond the edge of the white rectangle. Be sure to cover the entire section of the card front.
Then I lay strips perpendicular to the first Berry Burst strip I attached to the card front. I continued adding strips until the entire card front was covered.
Finally, I turned over the layered cardstock, so that the white rectangle was on top. I carefully trimmed the excess strips, leaving the striped top.
The striped cardstock is very busy, because I used a bright color. So, I needed to keep the rest of the card simple. What do you think?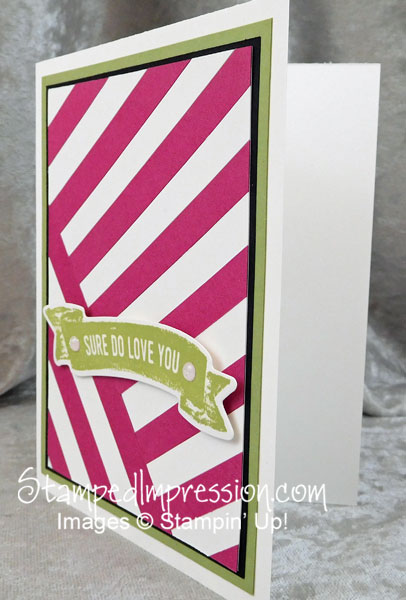 Supplies I Used to Make this Card
I've experimented a little with this technique. Most of the time, I think I prefer lighter colors, maybe So Saffron and Whisper White. Maybe two shades of blue – either contrasting or close in hue. The possibilities are endless. Give it a try and let me know how you make out.
I just love a new technique!